I've watched Burlesque last Friday and I got so freaking excited cause I was so hyped up on the movie after watching the trailer!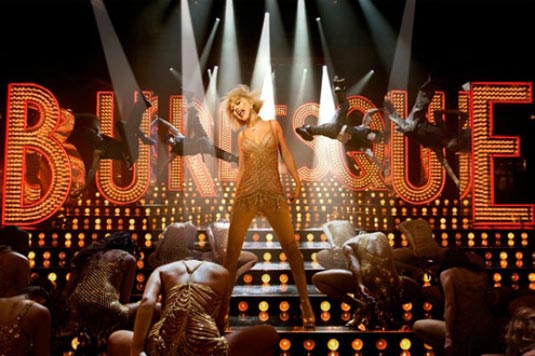 One thing about the movie was I thought the story was in the 30's like Moulin Rouge or later like 50s or 60s kinda oldies at first but I lol-ed when I saw the handphones and cars and the f**kin awesome house!
So yeah besides gotten fooled by all the cabaret can-can style, all in all the movie was one worth watching for the GOOD AWESOME catchy songs with powderful pipes (Christina Aguilera & Cher babeh!) and of course eye-candy Jack Miller (Cam Gigandet) ZOMG he's so hawt! *did I mentioned he went NAKED in the movie?* *Oh Cookies! weee!*
Photos from Google
AND McSteamy Eric Dane as Marcus Gerber; the bad guy who wants to buy Burlesque.
BESIDES all those eye candies, I love seeing how Sean (Stanley Tucci) and Tess (Cher) be with each other, they have awesome chemistry, just too bad he's gay or they'd be an awesome partner! LMAO
As much as this is a musical, it's not like High School Musical where Goddamned songs appears outta nowhere and people start breaking into dance but more of Glee style; ie : story goes on, songs are sung when it is supposed to be sung : performance time etc and while the song is playing, they flash the story along so it doesn't get all weird and ridiculously optimistic.
The movie have clichéd scenes of course but the presentation of the story line and they way it is expressed is interesting to watch.
As much as I was freezing cold and maybe alil hungry I skipped dinner that night to watch this! I just wanted to stand up and just dance to their songs! woots!
Check this and see if you get hooked!
I cannot tahan this song! It's FREAKIN AWESOME! Dayumn I so wanted to just stand and dance when they played this song in the movie!
"Show me How You Burlesque"
And why wouldn't you wanna miss something like this? though it may be awefully awkward to be watching it with a guy friend sitting beside you *cough cough*
Whaaaaaaaat?
"I'm a Good Girl"
Verdict : watch and you WILL be entertained, ESPECIALLY if you're a fan of Moulin Rouge / Sound of Music kinda movies.
"Opportunity knocks only once. Grab it while you still have it"
"Every item has a shelf life. better catch it before it expires"
You know I'm Bound to you
Would you save the last dance for me?
stephy-I'mAGoodGirl-nie