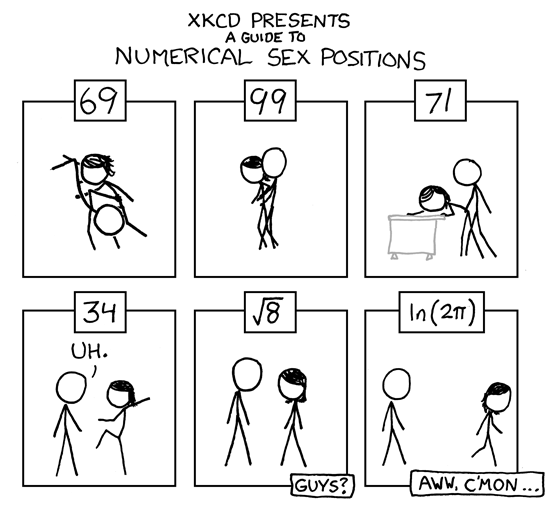 We didn't even get to the continued  fractions!
LOL
That was a funny one from
********************************
So starting next week I'll be having holidays for a week! woohoo!
But then again, during the holidays my to-do list are as such:
1. Finish my Lab log book
2. finish my Lab Report
3. Study for Unit op test
4. finish unit op assignment
5. think of moral assignment
6. attend a student council-clubs and society meeting
7. think of how to celebrate my birthday (next friday! yippee!)
8. Go watch Night at the Museum 2!
9. Read essays and articles on Kant's Duty Philosophy
10. think how to celebrate my birthday.
11. celebrate my birthday.
************
Yep..
that's about it.
Today, has been this real mad day cause everyone is like madly racing against time thinking and squeezing our heads to finish our lab log book.
It's really funny to see us all stuck in the library staring at each other thinking what to do.
And though our due time was at 5pm, we kinda cheated alil and passed it up at 6pm
But then again, I was racing against a different due time cause I didn't need to pass up my log book but then I have our moral assignment's skeleton to pass up so I was busy typing for moral amidst them all doing lab log book.
**************************
Anyways,
what you  guys think of my new header?
I got bored of my old one so I basically just stuffed in all those photos I took and tadah! a header!
Derek says it looks emo..
yameh??
****************
Next I have photos to upload!
went makan makan with my college friends today in old town.
OMG their chicken rice was so yummy!
LOL
I was camming and i noticed the light reflection and started camwhoring!
yays!
But I was pissed cause they didn't allow me to change my drink and that Iced Lemon Tea was so darn bitter!
sheeshness!
Alright, next is from the scenes of the LIBRARY…
That's what happens when you are so blur on what to do with your assignments!
camwhore break!
oh oh!
another one is when we went to Esquire kitchen yesterday!
Xhie hweai was craving for their ham tan sou (salted yolk cookie?)
aaannnd..
the photos!
i made sure we sat beside the huge mirror!
This was what I ate
Tung po pork rice
yummy
and my soupy~
this is xhie hweai's
**************
windows live writing is fun and easy but crap whenever I add photos in I gotta reset my font and colour again and again and again!
this is getitng frustrating.
sheeesh-ness!
****************
and another thing that made me smiled.
I was going through my CDs seraching for any songs to listen and I found an un-named one.
so I put it into my player and oh-boy!
it was my Graduation CD!
There was a video in it and I played it, looking at all our old photos from school makes me wanna cry.
I miss my high school life.
Miss you guys!
bila mau buat reunion?
and don't make me organize! sheesh!
oh crap!
just realized that the video was actually 65MB after i tried uploading it
=.=
*********************
When you think that it is over,
think again.
It may have just begun
-stephy_nie